Coming up on next week's Casual Comics Cast, we'll be previewing a few issues that hit the shelves this week: Detective Comics #1000, The Walking Dead #190, and War of The Realms #1. Look for the podcast early next week!
In the meantime, here are a few more comics that caught my eye.
Black Hammer '45: From the World of Black Hammer #2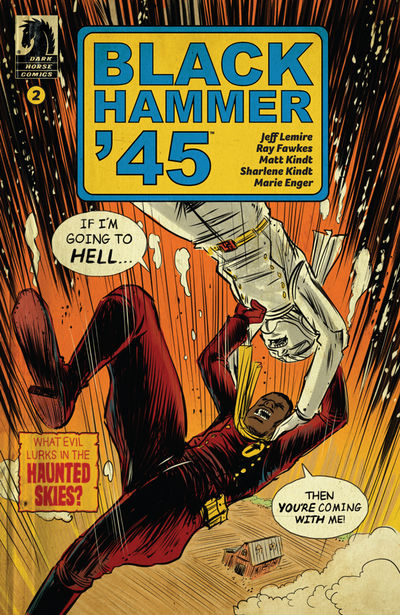 "From the World of Black Hammer comes a truly gripping tale of war and intrigue!

With their orders to save a family of scientists from the clutches of the Nazi regime, the Black Hammer Squadron are on the move. As they encounter fantastical foes, the elite air-men also find themselves with the aid from a hero Black Hammer readers will find familiar!"
Black Hammer is one of the titles I recently came across on Comixology. For those of you who have a subscription to the service, but have not yet checked out Black Hammer, I highly recommend it. It's got sci-fi, action, magic, and mystery all blended together into a pulpy froth.
The first two books in the series – Black Hammer: Secret Origins and Black Hammer: The Event were mind-blowing, but the second volume came out in 2017, and the trade paperback of Black Hammer: Age of Doom didn't come out until January of 2019. I've been wondering what's going on in the expanded Black Hammer Universe, so I'm curious how this volume will pick up / tie into the story.
Adventures of the Super Sons #9 (of 12)

"Takron-Galtos, the prison planet, may be behind them-but in order to beat the Gang and get home, the boys must saddle up to survive a wild wild world of the west! An unlikely guide on this lawless planet might just help Superboy and Robin survive…but what in the west world is Jonah Hex doing out here in space?! Hold on to your hats, this one's going to be a bucking good time! "
Here's a great case study in being a casual comics fan. I walk away from this blog for what seems like no time at all, and I come back to a world where Superboy and Robin have their own comic book? One question – why is it called "Adventures of the Super Sons"?
Is this a world where Robin is Batman's son? Somewhere deep in my memory banks, I'm recalling a character named Damian who was Batman's son with Talia al Ghul (I think). In this comic is Damian the new Robin? And which Superboy are we dealing with here? I guess that's more than one question… and that's why DC comics sometimes make my head hurt.
Cool cover, though, and glad to see Jonah Hex is still getting some run in the DC Universe. And, he's getting off-world too. Good for you, Jonah! Bonus points for using "bucking" instead of a different word here in a solicit where sensitive readers might see it.
Immortal Hulk #16
Here's a classic case of following my heart vs. my head for my Pick of the Week. (Spoiler alert, this is my Casual Comics Pick of the Week).
For those of you following along, I'm assuming that it's because you're interested in comics, but not that deep into what's going on day-to-day or month-to-month. I'm also hoping that it's because you're looking for comics worth checking out. If you're looking for one book to buy this week, The Immortal Hulk #16 is not that issue.
The Immortal Hulk is another series I got into via Comixology. The original conceit had very little appeal to me. It was pitched as a way to get the Hulk back to his "horror roots".
Having read some of those old Hulk comics, I never thought of them as all that scary. There are certainly elements of a werewolf story early on – when Hulk's transformations were caused by nightfall. And, later series certainly lean on the Jekyll/Hyde dynamic – a scientist whose creation overtakes his body.
The Immortal Hulk, though, really leans into some heavy ideas and digs further into the inspiration behind the creation of the character.
In Stan Lee's book, Origins of Marvel Comics, he discussed his inspiration for the character. "We would use the concept of the Frankenstein monster, but update it. Our hero would be a scientist, transformed into a raging behemoth by a nuclear accident."
In The Immortal Hulk, the character truly becomes a terrifying beast – compounded by the fact that he literally cannot be killed. Having read the first trade paperback, this is the Marvel series I am most eager to catch up on.
I'm such a fan of this title that I'm going to, for the first time I can recall, link to the title here. Amazon Unlimited subscribers – as well as Comixology members – should be able to read this title for free.
It's for those reasons (and More) that The Immortal Hulk #16 is my selection for the Casual Comic Pick of the Week.
PS – I love this comic so much, that the first two people to DM me at @casualcomicsguy requesting a physical copy of the first trade paperback will get one for ABSOLUTELY FREE!
Here's what you'll be getting!
Hope to hear from you soon casual comics fans!